Tres Leches cake can be a sponge cake in some recipes or a butter cake soaked in three kinds of milk: evaporated milk, condensed milk, and heavy cream. The cake is usually topped with whipped cream or meringue.
Nestle popularized the recipe by adding it to its condensed milk can labels in the 1940's. Tres Leches Cake is popular in Central and South America, North America and many parts of the Caribbean, Canary Islands, as well as in Albania, the Republic of Macedonia and some other parts of Europe.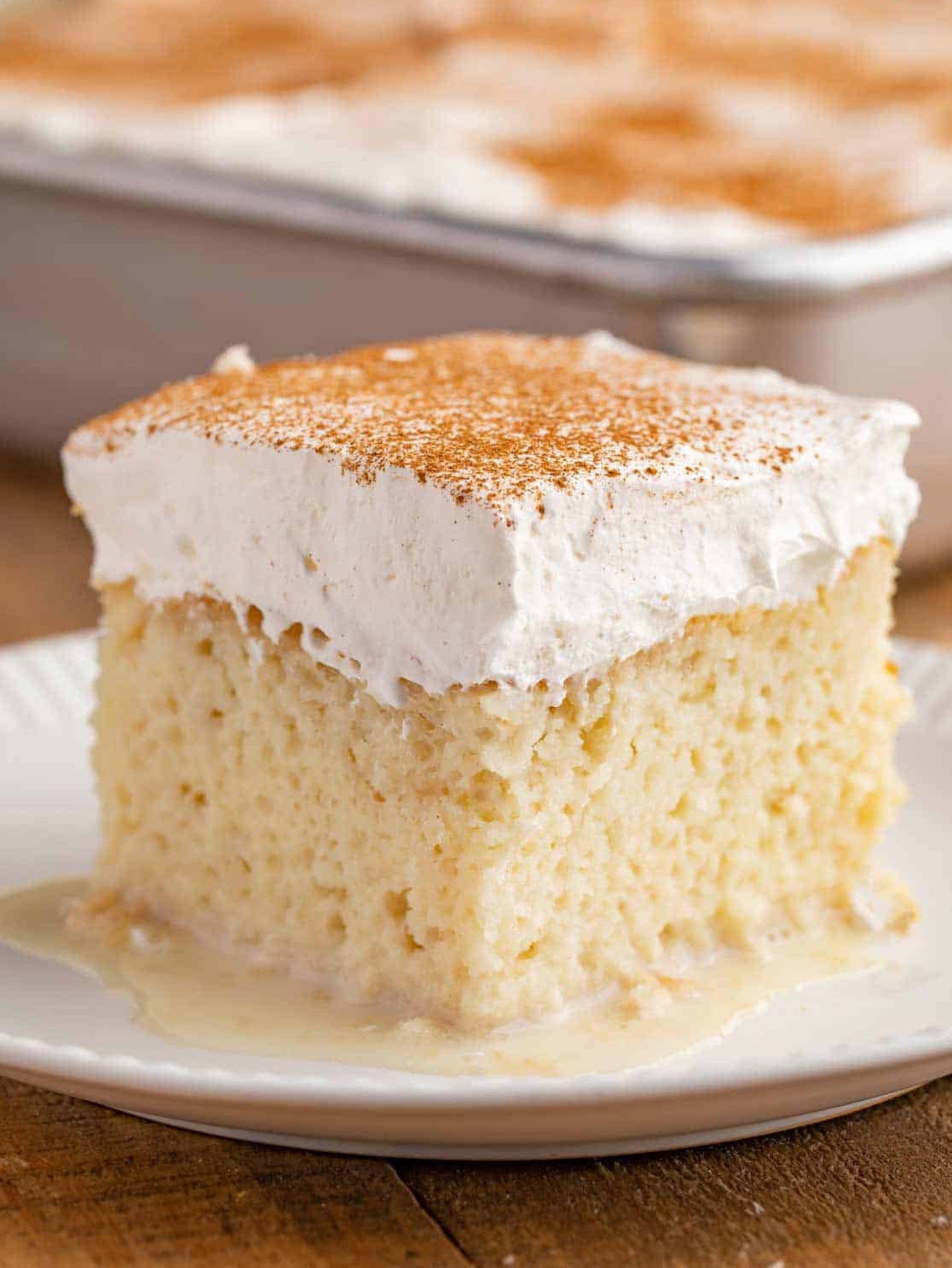 Puerto Rican Style Tres Leches Cake

Puerto Rican Style Tres Leches Cake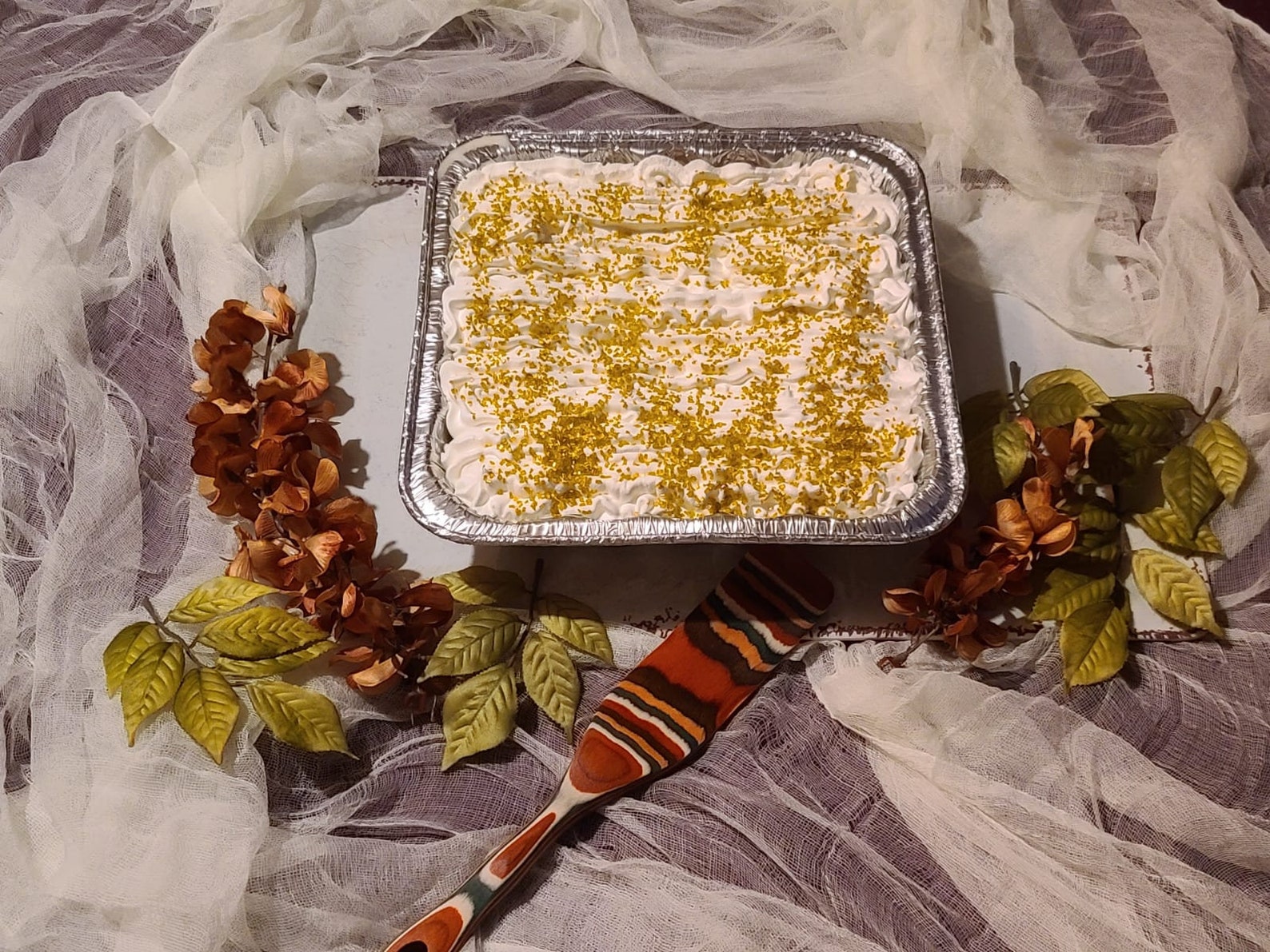 After so many years of traveling I had found this homemada irresistible Tres Leches in Mexico, made it with the hightest quality ingredients in the market, and a special key with an a secret ingredient, to give that incredible touch in your mouth.
Honey Moon Sweets, Cake Tres Leches 6 Inch, 26 Ounce
Heavy Cream, Sugar, Eggs, Whole Milk, Unbleached Enriched Wheat Flour (wheat flour, malted barley flour, niacin, iron, thiamin, mononitrate, riboflavin, folic acid), Canola Oil, Egg Yolk, Water, Condensed Milk (milk, vitamin A, vitamin D), Pure Vanilla Extract (water, alcohol sugar, vanilla bean), Croquant (sugar, puffed rice), Baking Powder (sodium acid phosphate, sodium bicarbonate, corn starch, monocalcium phosphate), Gelatin, Salt, Cream Stabilizer (pre-gelatinized wheat flour, potato starch, phosphate e-450, lactose), Cinnamon, Vanilla Bean.
Whole Foods Market, Tres Leches Family Size Cake, 16 Ounce
Sweetened Condensed Milk (whole milk, sugar), Evaporated Milk (milk, dipotassium phosphate, carrageenan, vitamin D), Pasteurized Cream, Cane Sugar, Wheat Flour, Dried Whole Eggs, Leavening (sodium acid pyrophosphate, sodium bicarbonate), Nonfat Dry Milk, Coconut Oil, Glucose, Starch, Gelatin, Soybean Oil, Salt, Natural Flavor, Beta Carotene (color).
GoFundMe Charities
The following GoFundMe links are opportunities for charitable contributions to people in need based on current events or emergency situations. These links are not profitable to CakeCupcakeGeek, we just wanted to do our part in raising awareness.
Jessalyn (11 Years Old) Waukesha Victim
Amber is a single mother of 5 and who's daughter Jessalyn is a victim of the horrific tragedy that happened in Waukesha, Wisconsin. Jessalyn is only 11 years old and is currently at Children's Hospital fighting for her life and undergoing many surgeries.
Waukesha Parade Tragedy- Dad's Leg Surgery
Father struck by maroon suv - He suffered from a broken leg and torn ligaments. Needs leg surgery.
Help Marisol recover
Marisol and her 10 year old son were participating in the Waukesha Holiday parade and struck by an SUV. Her son suffered minor injuries, however, she needs rehab to recover.
View All Waukesha Tragedy GoFundMe Opportunities
Advertisements